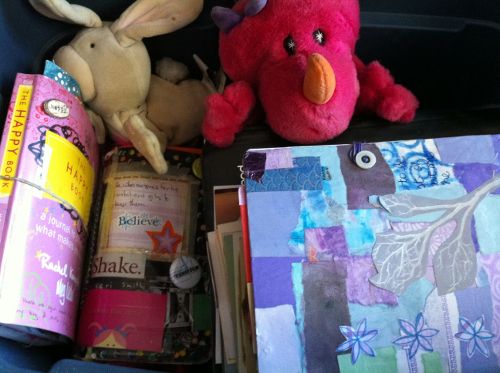 Do You Know Your Art History?
I'm not talking about Picasso and Monet or Impressionism and Surrealism. I mean your art history.
What are your earliest creative memories?
Making your mark with markers on a wall? Crafting with popsicle sticks? Making potato stamps? Pulling together costumes? Telling stories? Baking cookies? Singing Frère Jacques? Drumming on a red bowl? (That one's for my sister Suzie, hehe)
My earliest creative memory is dancing on a big red carpet while my Grandma played piano. I can feel it in my body now, my hands in the air, my bare feet playing with the patterns on the rug, letting them and the music guide me in the dance.
Where was your creative joy?
Did some art forms stir your spirit and others leave you cold? Did you channel your heart into raw, honest poetry but quiver at the thought of playing an instrument? Did your creativity thrive with others or when you were alone?
On the other side, did your creativity sometimes meet with harsh conditions? Do you have art scars? Did you show up shiny and creative only to find the world ready to knock you back?
Is there creative healing to be done?
So many of us have had art experiences that shut us down. We carry them close and remember them vividly. Sometimes they even convinced us that we shouldn't sing or dance or draw at all. What if we got rebellious and proved them wrong?
For strength it helps to look for signs of creative life. Were there also experiences that opened you up? Were there moments when you felt connected to your creative heart?
What or who nourished your creativity?
This month, let's spend some time exploring our personal art history, the stories we carry about ourselves, our art-ability, our creative souls. And then… let's create some new ones!
What do you know about your Art History?
This is my Kindergarten report card. I haven't changed a bit!
Enjoyed it? Share it.
Email It | Tweet It | Stumble It | Digg It | Save to Delicious